Medis Foundation Team
Meet the people behind the work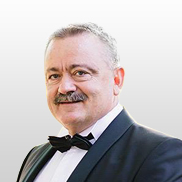 Călin Tiu, MD, PhD
President and Founder of Medis Foundation.


Dr. Tiu is Head of the Department of Surgery at the Municipal Hospital, Câmpina.
His expertise covers Visceral surgery, Laparoscopic surgery, Trauma surgery, Proctology, Phlebology, Upper endoscopy, Colonoscopy and Interventional sonography.

President of Society of Medical Innovation and Technology 2009, member of the NEW European Surgical Academy (NESA), member of the Commission of Technology of the European Association of Endoscopic Surgery (EAES), founder member of the European Association of Study of Acute Abdominal Pain (1996), member of Romanian Society of Surgery (SRC), Treasurer of Romanian Association of Endoscopic Surgery, ARCE, Expert trainer at the Delta Endoscopic Training Canter, Bucharest

Work Package leader in European Research Projects FUSIMO, KTS, SurgTTT
Carolina Ciută
With a background in Engineering, Carolina has 18 years of experience as Head of the Administrative Department in Medis Camp.
Administrative Officer in KTS, SurgTTT and Fusimo European Research Projects.
George Alexandru Negoiță-Tiu
Negoiță-Tiu George Alexandru has a background in electronics with Master degrees in Robotics and Project Management. His expertise covers medical robotics and EU funded projects.
Member of the Society of Medical Innovation and Technology since 2007.
Vlad Tiu
Student at University of Medicine "Carol Davila" Bucharest.
Technical expertise in graphic and web design, Head of the Visual Department of dissemination.
Involved in European Research Projects FUSIMO, KTS, SurgTTT
Associated members
Professor Cătălin Copăescu, MD, PhD
Consultant General Surgeon, Bariatric & Metabolic Surgeon, Head of the General Surgery Department, Ponderas Hospital , Bucharest, Romania, Director of the Ponderas Hospital Bariatric Canter of Excellence, Executive Director of the Delta Endoscopic Training Canter
Scientific researcher Grade 1 (CS1) – Romanian Ministry of National Education (2013)
Associated Professor of the "Carol Davila" University of Medicine and Pharmacy, Bucharest, RO, Invited Professor of the "Victor Babes" University of Medicine and Pharmacy, Timisoara, RO(2008)
Elected President of Romanian Association for Endoscopic Surgery
Elected President of the 23rd International Congress of European Association of Endoscopic Surgery, 3-5 June, 2015, Bucharest
Associated Professor Victor Tomulescu MD, PhD
Senior surgeon in Fundeni Institute, Bucharest
Experience in Robotic and laparoscopic surgery
General Secretary of Romanian Association for Endoscopic Surgery
Expert trainer at the Delta Endoscopic Training Canter, Bucharest